Sports Jobs don't just take place on the field
Calling all sports fans! If you're not quite ready to go pro, don't feel like you have to leave sports behind when you graduate. Check out the top seven sports jobs in the sports industry!


1. Physical Therapist
If you're interested in medicine, physical therapy is the perfect way to work with athletes while pursuing your passion. Medicine pairs well with sports jobs and there are a variety of careers you can find in that field, from physical therapy to being a personal trainer.
2. Materials Scientist
Materials Science is a very broad field, which is great if you want to be in a STEM job, but aren't sure on the specifics yet. It is basically the study of materials and how things are made, which covers a wide range of sciences from biology to chemistry to physics. This field also leads to a variety of sports jobs as it helps with the design of equipment and the sustainability of materials.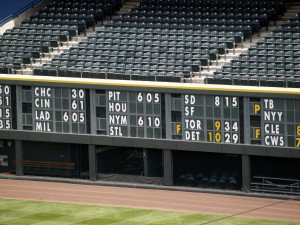 3. Sports Statistician
Any sports fan knows how important stats are and if you have a mind for numbers, you should check out a career in statistics. In an interview on how to enter the field of sports statistics, Keith Woolner, who works for the Cleveland Indians, says there are three crucial skills in this field: quantitative reasoning, technical skills, and domain knowledge. He also says that the need for statisticians taking roles sports jobs is on the rise.
4. Sport Psychologist
Similar to a sport therapist, a sport psychologist helps athletes overcome disabilities and stay healthy. Unlike a therapist, a psychologist deals more with the mind and would focus on helping athletes stay mentally healthy by offering counseling, team training, monitoring behavior, and doing research.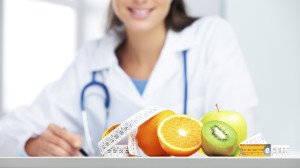 5. Nutritionist
Athletes need healthy diets and nutritional support to thrive in their sports. If you're passionate about health and food, nutrition would be a great way to still be around athletes and help people stay fit and in healthy form.
6. Sports Engineer
If you enjoy building things and are always up to date on the latest sports technology, you should look into being a sports engineer. The International Sports Engineering Association notes the difference between sports engineering and sports science. An article on their site explains, "Whilst there is a good deal of overlap, the two fields are actually quite distinct. I have often remarked that a sports scientist is concerned with what is going on inside an athlete whilst the sports engineer deals with everything on the outside; namely their equipment and environment."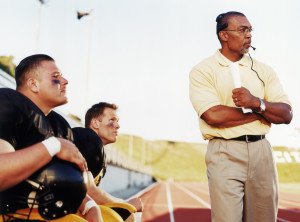 7. Coach
While coaching may seem like an obvious fit for sports jobs, it might not immediately come to mind when you think STEM jobs. However, it actually can combine multiple aspects of both STEM and sports. A coach not only has to teach his players the game, but he, or she, also has to keep them healthy and informed on proper nutrition; he should be able to explain the science behind what separates a champion from just a good player; he should be able to keep stats and explain them to his players. So if you want a little bit of everything, coaching is for you.
---
If you're not sure which of these sports jobs are your thing, take our STEM Jobs quiz to find your perfect fit!