Head onto the road of extreme-sport success by discovering STEM careers in race-car design and the world of car racing.
Though car racing is an extremely popular sport, it might seem all the pedal-to-the-metal excitement is due to an experienced driver with some fancy moves. In reality, understanding STEM can make all the difference when heading to the finish line. Learn about the STEM principles that fuel the design of race cars.
Fast Physics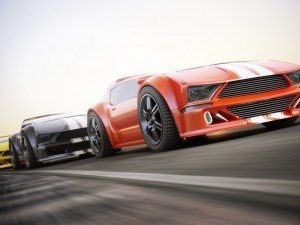 Except for the selection of safety features, choosing a car's design is the most important decision a racing team can make. The aerodynamics of a car can determine drag – resistance caused by the an object's movement through air, and downforce – the downward pressure on the car that creates better traction – which are two factors that must be considered when determining driver strategy.
Another consideration when determining the necessary aerodynamics of a race car design is the effect wings could have on the downforce of a vehicle. Yes, similar to airplanes, cars can have wings. Though the wings of race cars and those of airplanes work in a similar manner, the processes are reversed for their respective craft, according to Formula 1. Known as aerofoils, race car wings create downforce through balancing toward the area of low pressure. According to Bernoulli's Principle, air flow occurring at different speeds over the two sides of a wing yields the pressure shift.
Accelerated Engineering
Students who wish to pursue a career in racing should consider taking Advanced Placement Engineering in high school and, once in college, pursue mechanical engineering with particular emphasis placed on thermodynamics, heat-transfer, and fluids engineering. While many schools in the United States offer extraordinary mechanical engineering programs, choosing a path that will provide proper preparation for life on the road and track is crucial. The Cooper Union in New York City provides a comprehensive education in mechanical engineering, yet also affords the opportunity for real-world, hands-on race-car design experience.
Through The Cooper Union Motorsports, undergraduate students conceive, design, and build race cars to compete in Formula SAE. A unique experience, working on this team not only cultivates knowledge of automotive design, it teaches students to collaborate with others from different academic disciplines. This competition, hosted by SAE International, has brought together students from around the world since 1979 to develop innovative automotive designs. While different cities welcome the Formula SAE annually, The Cooper Union's team competes at the world's largest and oldest event – Formla SAE Michigan.
Contacting the American Society of Mechanical Engineers (ASME) can also greatly benefit the racing world's next generation of designers. Membership with this organization allows students to forge relationships and develop connections within the engineering corner of racing.
If the sound of an engine revving and tires screeching gets your motor running, be certain to check out "STEM at 200 Miles Per Hour" in the STEM Jobs Extreme STEM issue for a closer look at life as part of a NASCAR pit crew!