Freight and passenger trains are an important part of the transportation industry where a career as railroad conductor is available to high school graduates.
AmTrak has set passenger records in the past 11 years, according to the National Association of Railroad Passengers, and the U.S. Department of Commerce confirms that about 300,000 people are employed in the rail industry, with an additional one million jobs supported by this industry. The job of railroad conductor puts this worker on board both freight and passenger trains following high school graduation and short-term training.
Job Description:
A railroad conductor's job on a freight train is to help make sure the train's cargo is correctly and safely loaded and unloaded, review the paperwork and documents detailing the freight carried by the train, maintain accurate records regarding the train travel times, and operate both track switches and signals. Work is often outdoors and can be very physical. A passenger train railroad conductor is more customer oriented and is responsible for collecting tickets and supervising passenger safety and comfort by coordinating the lighting, heating, and air conditioning in the train cars.
Median Salary:
The median salary for a railroad conductor is $61,871 but candidates for this career will not have a standard 40-hour work schedule. Work hours will change according to the train schedule and travel route. Sometimes wages are based on the miles a railroad conductor has traveled and others may be paid hourly or based on an annual salary.
STEM Type: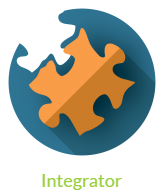 A railroad conductor is an Integrator STEM type who works well with the train transportation team to solve problems and direct others in their work assignments.
Education Required:
Railroad conductors must have a high school diploma and are usually trained by the company for several months to learn the job. Some companies do require a more formal training program offered by a technical school or community college where railroad conductor technology certification is earned. Railroad conductor certification by the Federal Railroad Administration is required if you work for a regional, commuter, or national railroad. Although the formal training is important, railroad conductors often find that actual job experience is the best way to learn.
Relevant High School Courses:
Students preparing for a job as a railroad conductor should study reading comprehension, computer technology, math computation, and physical education to have the necessary skills to succeed in this career. It is important for the railroad conductor to be able to communicate with co-workers and passengers, be a good leader, and make good decisions.
This rail transportation industry career can be a demanding one, as a railroad conductor is part of the 24-hour operation of the freight and passenger trains traveling across the United States, but it offers travel and interesting workdays to these railway employees.
Want to be part of the transportation industry, but unsure whether this career is right for you? Check out other top STEM careers in transportation here.