An emergency medical technician's response and the care provided may mean the difference between life and death for an injured or ill person.
The job of emergency medical technician, sometimes called a paramedic, is not for everyone, but someone who is able to react quickly and confidently in a stressful situation, quickly access the problem presented to them, and compassionately treat their patients has the qualities needed for this medical position.
Job Duties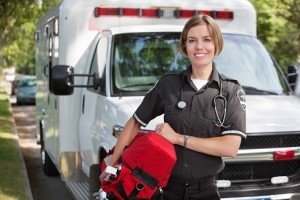 A 911 call sounds the alarm for emergency technicians to immediately drive to the scene of a person in distress. They often work with firefighters or police who report on the emergency situation and direct the EMT to those needing medical help. Sometimes only first aid at the scene is required, but the emergency medical technician must determine whether transport to a hospital is required or if they must administer immediate treatment in the form of cardiopulmonary resuscitation (CPR) or use of a heart defibrillator. Safe transport to a hospital requires one emergency medical technician to drive the ambulance while the other cares for the patient. Upon arrival at the hospital, the information must be relayed to the hospital staff and the EMTs must document the care they have given to the patient. After each call, the technicians must clean their equipment and re-stock the ambulance with supplies.
Education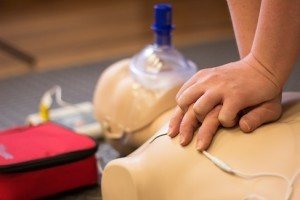 The first step in becoming an emergency medical technician is to earn a high school diploma or equivalent and obtain certification in CPR. Once these requirements are met, a one to two year program at a community college, technical institute, or emergency care training center must be completed. There are three levels of programs, beginning with EMT basic requiring about 150 hours of instruction; advanced EMT requiring 400 hours of instruction; and paramedic, which requires the EMT training plus courses in advanced medical skills or about 1,200 hours of instruction or an associate's degree. Every state does require emergency medical technicians to be licensed, either by the National Registry of Emergency Medical Technicians or a state examination. Schools that train EMTs include Bishop State Community College, Southern West Virginia Community and Technical College, and Aims Community College.
Advisor
Salary
The median salary for an emergency medical technician is $31,960 annually. Salaries range from $21,240 to $56,310 depending on the wage earner's level of education, skill, and location. EMTs must work shifts and may often work overnight or on weekends to ensure 24-hour coverage for emergencies. They may work for ambulance services, hospitals, or local governments. Regardless of where they work, the emergency medical technician is often put in stressful situations and the job can be physically demanding as they may have to lift and carry patients.
Job Growth
The emergency medical technician and paramedic job outlook is very good and is expected to increase much faster than the average for all occupations according to the Occupational Outlook Handbook. Unfortunately, the projection for this 24 percent growth through 2024 is expected due to the increase in violence, car accidents, and natural disasters. The aging of the baby boomers will also result in increased emergency calls for victims of strokes, heart attacks, or falls.
Work that provides an opportunity to help others is a vocational calling for those who wish to make a difference. The emergency medical technician sometimes saves lives, but is always a compassionate presence in their patient's time of need.