There are different kinds of apprenticeships, but any apprenticeship is a good way to learn how to do a job and get paid while you are learning!
Committing to an apprenticeship means that you are willing to work a full-time job and learn while you are working. Classroom instruction is often a part of an apprenticeship, and if you are serious about learning an occupation that is highly skilled, your commitment may take up to four years to complete. Most require that you are at least 18 years old and have a GED or high school diploma. Remember that you are paid for your work and you will learn the skills needed to become expert at your job, ensuring employment that is both rewarding and high paying. Sometimes you are required to purchase uniforms or tools, and transportation may be an expense to consider as well.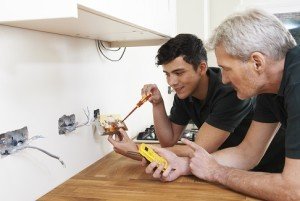 Apprenticeships are offered in a wide variety of careers, but there are some careers that require successful completion of specific skill training. For instance, those interested in skilled jobs such as plumbers, electricians, and carpenters have a lot to learn before becoming experts in these positions. Up to 2,000 hours of training on the job and over 200 hours of education is required of a plumber, who starts a career with an apprenticeship of four or five years. But the expected job growth is 21 percent over the next ten years and the mean annual wage for plumbers is about $55,000. An electrician can also earn a mean annual wage of $55,000 and higher depending on location. Electricians have about 145 hours of technical training and 2,000 hours of paid training on the job. The anticipated growth nationally is 20 percent. Carpenters usually start their training helping those with years of experience. However, apprenticeships are available that last three to four years of on-the-job training and technical education. The expected growth nationally for carpenters is 24 percent with a mean annual salary of nearly $46,000.
Other fields also offer apprenticeships, including telecommunications, health care, law enforcement, and commercial pilots, just to name a few. All of these jobs are some of the 345 jobs identified by the Bureau of Labor Statistics as those which require a high school diploma and offer a median wage above the national average upon completion of the required period of training and education.
If you are open to learning, but want to learn a skill, trade, or craft and not the variety of lessons offered at a traditional college or university, an apprenticeship may be right for you. Learning from an experienced, expert craftsman will allow you to gain the knowledge and skills you need to be successful in your future career while getting paid to learn.