Summer college visits can be tricky since schools aren't in full swing, but our guide can help you make the most of this convenient time to take tours.
Your summer break: The perfect time to check out the universities that are on your shortlist.
Colleges' summer break: Uh, not so much.
While the perfect time to visit a school is while the whole school is in session, it unfortunately leaves few chances for you to snag a glimpse at your future and maintain your own busy school-year schedule.
Don't despair just yet, though. If this is the only chance you have, we've got five easy steps to make the most of your summer college visits. Tour on!
1. Check the summer term schedule
Being on campus when nobody else is will not give you any sort of impression of what it would be like to live there nine months out of the year.
Before you start plugging addresses into Google Maps, hit up the Registrar's website, search for the summer term calendar, and see when classes will be in session. While the campus will be quieter than usual, it shouldn't be a ghost town if you plan it right.
Try picking a time of day when students will be out and about — 8 to 10 in the morning, before classes start; around lunch time; or in the afternoon, when classes are out for the day — so that you can see people interacting (and maybe interact with them yourself — go on, be brave and say hello!).
Checking out the summer schedule will also allow you to see the types of general courses that you may be required to take and when they are offered, so pay attention and use it as an opportunity to explore some of your interests.
2. Connect with a student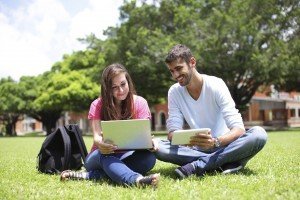 Social  media is amazing.
Why?
Because it lets you connect with people you never would have known existed otherwise. Search on Twitter or Facebook before your summer college visits for applicable hashtags (#summerschool) and look for groups from different universities.
Message them or leave your own post and see if anyone will be around when you're planning your summer college visit.
Offer to buy them a coffee or bring them a cupcake or pizza, and bam! — instant new friends…new friends who can tell you what it's really like to be a college student at NYU or CalTech or wherever you're visiting.
3. Set up 10 minutes with a prof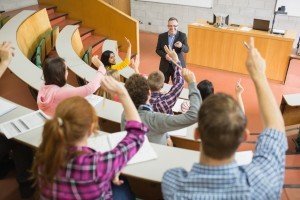 Many campuses offer basic, 101-style lecture courses during the summer so that students can complete general education credits.
Guess what?
These are the sorts of classes you're going to be taking during your first year, and sitting in on one and chatting up a professor or assistant who's teaching it can give you essential insight into what your day-to-day life would be like at a certain school.
Will things go over your head? Probably.
But you might be surprised by how much you like (or loathe) different teaching elements. And even better – many of these elements are universal, so observing them now can give you a feel for which classes you'll want to take, regardless of which school you end up going to.