Make it to the head of the class – and get ahead of many other students in the country – by taking AP math and computer science courses during high school.
Advanced placement, or AP, courses offer priceless opportunities for students who want to advance past typical high-school curriculum. Whether you want to reach beyond high-school coursework or ease your college workload before stepping foot on campus, AP classes offer an enormous advantage by enabling you to begin earning college credit before high-school graduation!
AP Calculus AB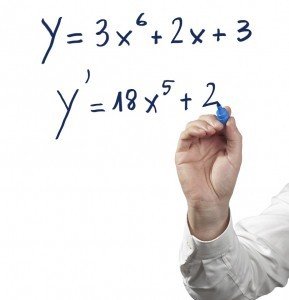 Building upon a foundation of algebra, geometry, and trigonometry, students who have studied these topics can easily move into AP Calculus AB. Coursework covers complex problem solving through functions, graphs, limits, derivatives, integrals, and the Fundamental Theorem of Calculus. Using technology, you will be asked to interpret concepts through graphical, analytical, verbal, and numerical methods. According to The College Board, AP Calculus AB offers preparation for economics and mechanical engineering majors, plus careers in financial management and urban planning.
AP Calculus BC
This course teaches all concepts covered in AP Calculus AB and expands upon the preliminary material. AP Calculus BC differs from AP Calculus AB, as it brings forth the differential and integral calculus concepts of parametric, series, polar, and vector functions. AP Calculus BC can contribute to majors in aerospace engineering and computer graphics, which could lead to careers as an aircraft and avionics technician or an industrial designer, says The College Board.
AP Computer Science A
Covering the fundamentals of computer science, AP Computer Science A relies on Java as the foundation for programming, data structure, operations and algorithms, and system reliability. Prior to completion of the course, students are expected write, run, test, and debug their programs by using Java. After AP Computer Science A, The College Board reveals students are prepared to pursue a major in information technology or management information systems (MIS), which will lay the groundwork for careers in computer and information systems management, or network systems and data communications analysis.
AP Computer Science Principles
Complementary to AP Computer Science A, this course introduces the computing and technological processes that create digital products used each day around the world. AP Computer Science Principles does not teach a programming language, but students are advised to have a strong foundation in high-school level algebra. With the background provided by the AP Computer Science Principles course, students can continue their undergraduate career with a major in robotics or electronics technology, which could pave the way for careers as electronics technicians and software developers.
AP Statistics
For students who have successfully completed second-year algebra, AP statistics provides an excellent option to explore the proper processes of data collection and analysis of patterns. Through these steps, students will learn how to develop answers for critical problem solving tasks. Following completion of the AP Statistics course, students will be equipped to pursue a major in psychology or social work. According to The College Board, these majors will prepare students for careers in family therapy or news analysis.
As many college students scramble to complete core curriculum requirements during their undergraduate work, those who have previously completed AP math and computer science courses in high school might be able to take a lighter course load. For additional information regarding AP math and computer-science courses visit The College Board. With a little extra effort (and maybe some assistance with AP homework), AP math and computer science courses can challenge you and prepare you for college-level work, so find out which AP courses your school offers today!