Dread the idea of working in a cubicle for fifty years? Yearning for a job that's creative and fun? Check out these toy industry careers today!
Creating, designing, testing, improving, and packaging toys and games are just some of the many toy industry careers. Many different STEM skills are required to take an idea for a new video game or the latest super hero figure through to an actual product on a store shelf. If your dream is to be a scientist, don't worry, the toy industry needs you. Want to be an engineer? You, too, can pursue a toy industry career. The surprising and high-paying toy industry careers listed below are just some of the many available in this exciting field.
1. Product Designer
Job Description:
In this toy industry career, product designers work designing all of the new toys and games at their company and improving the design of those toy favorites to work better or cost less to produce. They design toys for kids to enjoy and take into consideration the materials used, safety regulations, and age appropriateness.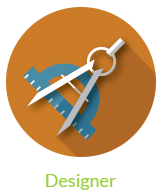 STEM Type:
Designer
Median Salary:
$58,537
Education Required:
A bachelor's degree in engineering is required for employment.
How to Prepare:
Technology, math, and art classes in high school will prepare high school students for this and many other toy industry careers.