Whether you're into print or digital media, there are plenty of publishing careers available for those with the right STEM skills.
Being a superstar in media, bypassing all of the other publishing careers on your way to becoming editor-in-chief right after high school might seem to be a good–but unrealistic–idea. Take a step back and recognize that there are other top jobs that could lead to the chief spot, or prove to be the perfect career for you. Find out more about five top publishing careers that blend creative arts, communications, media, and business.
1. Graphic Designer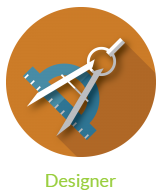 Working with editorial, marketing, and advertising staff, you create the visuals that accompany product messaging. Whether it's that one great illustration in a magazine or a single picture that complements the thousand words in an article, your goal is to share a complete story with the audience by creating the perfect picture.
STEM Type: Designer
Median Salary: $47,640
Education Required: Bachelor's degree in graphic design
Relevant High School Courses: Geometry, Trigonometry