Kinetics careers focus on the science of motion and physical changes. If you love sports and fitness, a career in kinetics might be right for you.
Jobs in this field provide opportunities for anyone interested in physical education, fitness training, coaching, and medical treatment in the form of physical therapy or chiropractic medicine. These top five STEM kinetics careers provide interesting job choices for students fascinated with the human body in motion.
1. Physical Education Teacher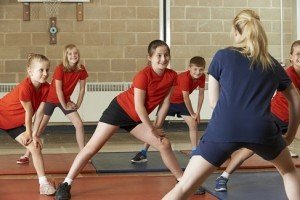 What They Do: Although it's probably not the first thing that comes to mind when you think of kinetics careers, physical education teachers educate students in the area of fitness, sports, and health, and demonstrate fitness habits that can be used throughout their lives. Physical education teachers teach in all grades in both public and private schools, and their classes provide a necessary break in the academic routine where students can move away from their desks and be physically active.
STEM Type: Integrator
Education Required: A bachelor's degree in education, focusing on physical education and health, is required.
Median Salary: $58,260
Things You Can Do Now: High school students can prepare for this job by participating in sports and recreational activities.