4. Medical Laboratory Technician
Job Description:
Technicians' work includes testing blood, urine or tissue as ordered by physicians. They wear protective clothing such as gloves, masks, and goggles to protect them while operating lab equipment and running tests.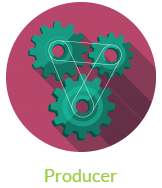 STEM Type:
Producer
Education Required:
Candidates for this health care career must earn certification in laboratory science at a vocational or technical school.
Median Salary:
$41,420
How to Prepare:
Studying high school courses such as chemistry, biology, and math can prepare you for this health care career.