School may be out, but the learning doesn't have to stop. All you need is a great summer reading list — and we have a few ideas to get you started.
Nothing completes a day at the beach or makes traveling on a family vacation fly by like an awesome book. While you may usually associate novels with literature class, there are many amazing reads centered around science, technology, engineering, and math. Make sure to add these titles to your summer reading list — and impress your teachers come September with everything you've learned.
We've sorted the books by grade level as a guide, but don't let the category stop you from pursuing a title if it appeals to you!
Books for Middle School Students to Add to Their Summer Reading List
1. Rocket Boys (republished as October Sky)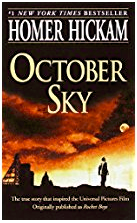 In his memoir, Homer Hickam Jr. recalls his adventures as a young engineer experimenting with rocketry while growing up in a West Viriginia coal mining town. He and his friends go on to win a National Science Fair gold medal for their rockets, a project titled "A Study of Amateur Rocketry Techniques."
Want more stories from Hickam? This read was followed by The Coalwood Way and Sky of Stone, and the original book was given the Hollywood treatment in the 1999 film October Sky (an anagram of Rocket Boys), starring Jake Gyllenhaal, Chris Cooper, Chris Owen, and Laura Dern.