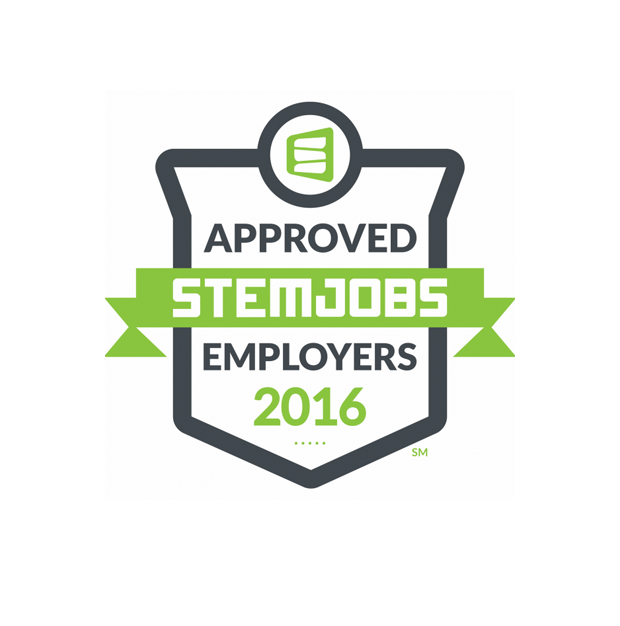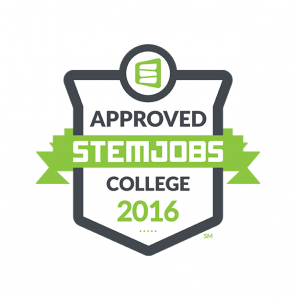 2016 STEM Jobs Approved Employers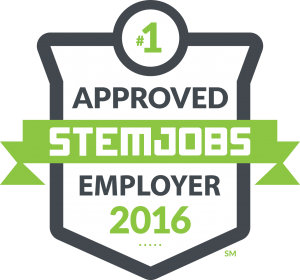 Over the past year, we reviewed publicly available data along with survey information from hundreds of employers in an effort to assist educators, parents and especially graduating students to recognize what top employers are doing to help you find a career you will love in the present and far into the future.
The result is a set of practices that are critical for leading and shaping workforce development and driving student engagement in STEM subjects. These employers understand that we need all students to invest more in developing their STEM knowledge and skills, and they are highly engaged in doing something about it.
Throughout the year, we invite new employers to participate in our benchmark study, and highlight those employers in our 10 Hot Jobs listings.
Here, we introduce for the first time the full list of STEM Jobs Approved Employers for the 2015-2016 school year.
WHAT ARE THEY DOING BETTER THAN ANYONE ELSE?
1. THEY ARE STRENGTHENING THE CONNECTION BETWEEN CLASSROOMS AND CAREERS
All employers measure the effectiveness of their recruiting efforts, but very few invest in developing talent pipelines that reach into high schools or even middle schools to expose students to new career options they would never get a chance to experience.
2. THEY ARE ATTRACTING AND SUPPORTING GREATER DIVERSITY AMONG STEM PROFESSIONALS AND FIELDS
Every employer has work to do in diversity, either in sustaining their best practices or in assuring the skill potential of women and minorities in STEM professions. These employers are open about their own diversity and stepping up as industry leaders.
3. THEY ARE CREATING AND PROVIDING OPPORTUNITIES FOR STUDENTS, GRADUATES AND NEW EMPLOYEES TO DISCOVER AND EXPERIENCE NEW CAREER OPTIONS
Employers don't have to provide internships or partnerships with their local communities, but smart employers do. These employers are deeply concerned with creating opportunities for future workers and ensuring that those future hires have continued opportunities to learn and grow with their company.
4. THEY ARE COMMITTED TO THE CAREER DEVELOPMENT AND SUCCESS OF THEIR EMPLOYEES
The traditional concept of a single-employer career is dead. Keeping employees engaged over a full career requires considerable investment. These employers are redefining the career for their employees through investment in training, development and a focus on creating true career pathways.
What is the "STEM Jobs Approved Colleges List?"
We've completed the research! Schools on the STEM Jobs Approved Colleges list have shown that they understand the importance of aligning their programs to high demand, high paying STEM jobs and helping their students achieve those career aspirations.
Why is this List Important?
It's never too soon to start planning your stem career — and that means choosing the best schools that are focused on preparing you for STEM jobs.
How does a College Make the List?
They have aligned their STEM programs with high paying jobs that are in demand.
They have programs, resources and relationships that help their students get jobs.
They are attracting and supporting diverse students and faculties in STEM fields.
They have specific resources dedicated to supporting STEM student achievement and success.
The 2015 Rankings are linked below – click the button to check them out!
STEM Jobs Approved Colleges ratings are based on a combination of publicly available data and survey responses. Some schools did not report or could not provide sufficient portions of the data to be considered for rating in this publication. Ratings are provided for all participating schools based on their available data online.
Are you a college interested in becoming STEM Jobs Approved? Take your survey, today! Visit: www/stemjobs.com/sjasurvey
Sue Hamilton
Both high school and college graduates can apply their technology skills to achieve success in these advanced manufacturing careers. The term manufacturing often brings to mind assembly lines and mass production of anything from vehicles [...]
Sue Hamilton
These amazing health care careers allow you to use your STEM skills to help others—without the time and expense of medical school. High school graduates interested in the fast-growing field of health care have many [...]