One of the biggest space events in recent history will take place on August 21. Prepare for the 2017 solar eclipse to see celestial STEM in action!
The last time a total solar eclipse was visible to the continental United States was way back in 1979 – long before you (and some of your teachers) were born! Observing this year's solar eclipse on August 21 is extremely important for everyone to witness as the moon moves in front of, and completely blocks, the sun and its surrounding area, also known as its corona – but there are a few things to know before viewing this extraordinary event. By learning about the best viewing locations and safety precautions, prepare to see one of STEM's greatest natural events.
Be Prepared. Be Safe.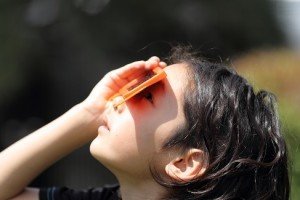 It might not seem to be a big deal, but the solar eclipse can be dangerous and you're going to need a bit more than sunscreen and sunglasses to stay safe. Looking directly at the sun is always risky, but during a solar eclipse, the dangers increase and could result in burned retinas. Special solar eclipse glasses are necessary to safely view the sun during this time and some libraries and organizations, such as eye-wear company Warby Parker, are offering complimentary pairs, while other options are available in stores and online. If glasses are sold out or unavailable, solar viewers, pinhole projectors, and sun funnels can be made at home or in class for little or no cost. These projects can be a lot of fun to work on with parents, siblings, friends, teachers, and classmates, but check with an adult before creating any of these tools.
Location, Location, Location
Viewers who are located in the eclipse's path of totality, which stretches over 14 states from Lincoln Beach, Oregon to Charleston, South Carolina, will be able to see the entire event, says NASA. In addition to Oregon and South Carolina, the total solar eclipse will be visible in areas of Montana, Idaho, Wyoming, Nebraska, Iowa, Kansas, Missouri, Illinois, Kentucky, Tennessee, Georgia, and North Carolina. Outside this zone, a partial solar eclipse will be visible for STEM enthusiasts in regions of North and South America, Africa, and Europe. While the eclipse will last for a few hours, the totality is visible for only minutes.
This event is one of the most exciting celestial phenomena to happen to STEM in years. The next total solar eclipse over the continental United States is predicted to occur April 8, 2024. Set the DVR to your favorite news station or science program and get outside (but don't forget the glasses)!