Get Your Virtual Game On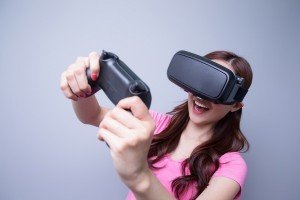 If you are lucky enough to get one of the new VR headsets being released this year, hopefully you have saved a little extra to buy some of the games that will take you away into so many virtual environments.
Exciting games playable on all three VRs of 2016 include: ADR1FT, a first-person astronaut survival experience; The Assembly, a secret science lab adventure; Bebylon Battle Royale, where babies duke it out in a Mad Max style arena; and The Earthlight Project, in which players experience space exploration.
If you pre-order an Oculus Rift, you will get EVE:Valkyrie, a multiplayer space dogfighter game, thought by Will Mason of www.uploadvr.com to become "one of the most iconic early VR titles."
Beyond Gaming
Virtual reality is not all fun and futuristic games. There are almost unlimited uses for this tool. Students can get a 360-degree panoramic tour of the White House without ever leaving the classroom through the program QuickTime by Apple. VREAL is a VR program for assisted learning used by hearing-impaired students. Oculus Rift can be used for training in surgical procedures as students see through the eyes of the surgeon.
Google Cardboard, a cheaper, low-end virtual reality kit used with your Smartphone, has brought college campuses to students unable to travel to faraway cities.
The New York Times Company has worked with Google to distribute the Google Cardboard to its subscribers and create journalistic interest in virtual reality documentaries they created. Drury University uses a program to allow their architecture students to physically experience the construction of a building – before it is built.
Training for fighter pilots can be done in a virtual environment before they are given a real-world experience.
Virtual reality entertains us as almost nothing else can do, but it also gives us the chance to take serious virtual risks and experience training that would be too dangerous or expensive to do in the real world. Step into virtual reality in 2016 and find out why it's the "Year of VR."